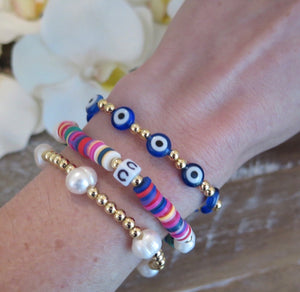 Protect Your Rainbow Set of 3
Set of 3 bracelets includes: 
1 rainbow bracelet with initial 
1 stackable bracelet 
1 evil eye bracelet 
All bracelets are made in standard size unless otherwise noted. 


For specific sizing instructions and initial, please leave in notes or email sales@kichuwraps.com with order number. 


Care Instructions: Please note that these bracelets can tarnish with time and wear. For long-standing beauty, please take care of your bracelets and do not wet (or put perfume or lotion, etc..) on them. 
---