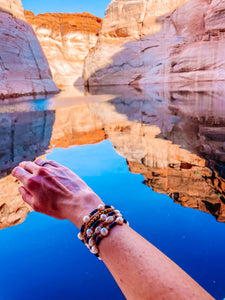 Lake Powell Set
This Lake Powell Set is a beautiful bracelet set of 3 featuring blue semi precious stones and baroque pearls, crafted with stainless steel beads plated in gold. Enjoy a timeless look with this exquisite set, perfect for special occasions or everyday wear.
Details:
Set of 3 of the same bracelets 
Semi Precious Stones 
18k gold plated stainless steel beads 
Baroque Pearls 
Standard Wrist Size 
Care Instructions: 
 Please note that these items are the highest quality of gold plating and can tarnish with time and wear. For long-standing beauty, please take care of your bracelets and do not wet (or put perfume or lotion, etc..) on them.  For specific sizing, please leave notes in special instructions. If personalization is needed, please leave notes in special instructions. 
---