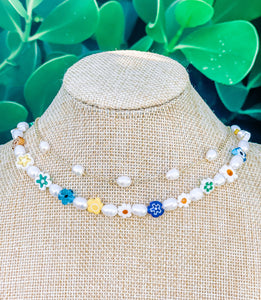 Flower Power Pearl Necklace
Beautifully decorated with murano glass flower bead and fresh water pearls, this necklace is one for the books. The perfect everyday necklace to wear stacked or alone! 
Adult 15 inches with extender
*Each necklace sold separately.



Care Instructions: Please note that this necklace can tarnish with time and wear. For long-standing beauty, please take care of your necklace and do not wet (or put perfume or lotion, etc..) on them. 
---