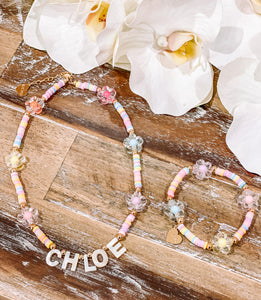 "Chloe" Necklace
Price includes FOUR letters. To add a name, please add the additional letter option for each  additional letter. 


Sized for child. If you would like a certain length please leave in special instructions. 
 Please leave name in special instructions. 
Care Instructions: Please note that this necklace is gold plated and can tarnish with time and wear. For long-standing beauty, please take care of your necklace and do not wet (or put perfume or lotion, etc..) on it. 
---