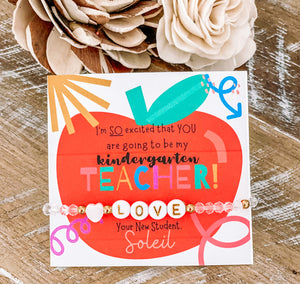 Back to School Teacher Gift
Back to school is around the corner and we have the cuties goodies for your new teachers to be!! Checkout these cute bracelet sets as the perfect gift for your new teacher which can be personalized with your name and grade! And be sure to checkout our back to school bracelets online.
Details:

Personalized card with grade and name
Clear beads with gold plated beads 
Mother of pearl heart bead 
"Love" beads
Care Instructions:
Please note that these items are the highest quality of gold plating and can tarnish with time and wear. For long-standing beauty, please take care of your bracelets and do not wet (or put perfume or lotion, etc..) on them.  For specific sizing, please leave notes in special instructions. If personalization is needed, please leave notes in special instructions. 
---